I just don't have time for my truck anymore with work so its gotta go.
1977 Ford F250 Highboy
351M Engine
C6 Transmission
Divorced NP205 Transfercase
HP Snowfighter D60 front
LP D60 Rear
This truck is a beater, its big ugly!! but for the price you'll be hard stretched to find something that can wheel with it.
Mods:
Lockrite's front and rear
4:10 Gears
Warn Premium 30 SP hubs
Rear 3/4 ton chevy discs
High Angle Drive Line Shafts (.250 wall, 1410 U joints)
Ruff Stuff Diff Covers
4" Lift Superduty front springs
Longer front shackles that cycle the spring like it should
38.5" Boggers that have rock rash but have quite a bit of meat for the most part
Trail worthy 16.5 Recentered beadlocks with PVC incerts
We rebuilt the NP205 when I built the truck, 4wd works great.
Included with purchase but not installed
Steering parts include
PSC SE Ram
KORE Billet High Steer Arms
Stick of DOM for steering
4 Heims with misalignments
Tube adapters for heims
Ruff stuff track bar bracket
PSC Canned Ham Hydro Pump
PSC Steering U Joint
PSC Hose Kit
PS Cooler
PSC Resvoir Kit
351m/400 bracket for canned ham pump (hard to fine)
Brand new Eaton Orbital Valve from PSC
I think the only thing thats missing is a Pulley for the pump, if the one off the truck doesnt fit.
The bad:
The C6 is smoked, t
The engine is a POS but runs
It is manual steering
The body is beat up
needs new rear leaf perches
This truck is very tough, you can beat the piss out of it and it won't hardly break. Drive it hard, hit trees who cares. Its a fun truck and being that it looks like a POS ppl are always surprised at how well it wheels.
I have $1500 in the truck, $1250 in the wheels, $1200 in the tires, $1300 in the drivelines, $1800 in the axles, $500 in the suspension, and atleast $1800 in the hydro steering parts.
That easily adds up to
$9150
.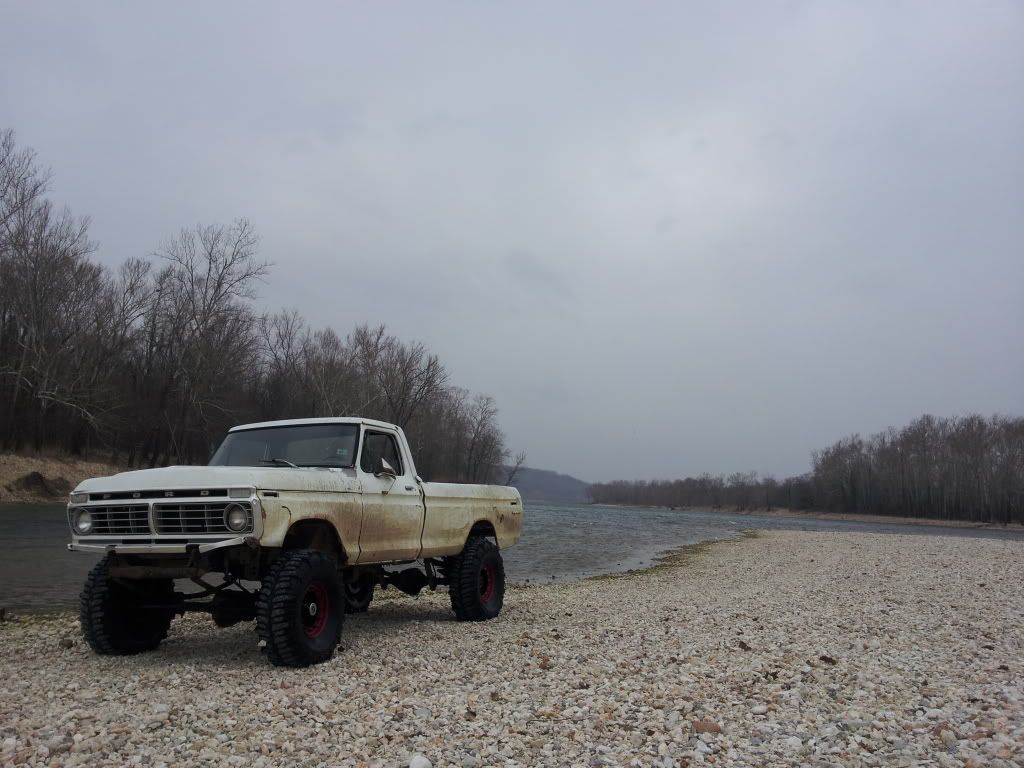 Fourwheeling Disney Oklahoma 01-16-11 - YouTube
More pictures from her early days when i just finished up with it
Here are some pics from when I FIRST put the truck together. IT ISNT THIS CLEAN ANYMORE, although I haven't washed it in years so all the por15 would probably shine up again??
The HAD drivelines are great, you can drag the truck up obstacles over the drivelines, no problems!! .250 wall is where its at on a long truck like this.
Video of the truck wheeling in Disney, it will walk up Roll Over hill, pinball, and any route up high point with manual steering. This truck needs the hydro put on, a 5.3 and th400 under the hood. Unfortunately I don't have the time anymore to do it.
My bottom dollar is
$3500
, you could part the axles, tires and wheels, and steering and make more than that. I believe its a plenty fair price. That will get me a set of Carli 3.0" Kings for my dodge and she'll be all set for Baja next year.
918-637-9084