1995 Range Rover Classic LWB – asking $10,500
Posting this for my colleague:
History: I purchased this vehicle in March of 2014. I am selling because I purchased a LR4 and decided to make that my off road daily driver and I need the space in my garage.
*Complete Paint Job Ferrari Red - Paint is fresh and looks good. It does not look like a repaint. Paint matches throughout including door frames and jambs. Paint job was done right and well.
*Suspension
Complete 3" Rovertym Suspension Lift - $1675 base price plus upgrade to Bilstein 7100 gas shocks F/R Total lift kit $2500 plus labor
- Rovertym Springs
- Bilstein 7100 Gas Shocks (Front & Rear)
- Rovertym Shock Mounts
- Reinforced Control Arms
- Great Basin Heavy Duty Drive Shafts (Front & Rear)
- Stainless Steel Brake Lines
http://www.rte-fab.com/products?page...category_id=54
*BFGoodrich AT tires - brand new 265/75R16 - $1100 installed
*New Front & Rear Differentials (4.11 gears)
*Exterior Upgrades - The bumpers, sliders and winch cost over $6K installed.
ARB Front Bumper –$964.95
https://www.expeditionexchange.com/arb/
Warn Winch - $584.00 -
Warn M8000 Self Recovery Winch - 4 Wheel Parts
Rovertym Rear Bumper - $745.00 -
Welcome to RTE Welding & Fabrication!
Rovertym Rock Sliders/Steps - $990.00
Welcome to RTE Welding & Fabrication!
*Interior - Fabrication of external rear back pillars - stripped the leather, sealed vents, painted matte black, new headliner. Seats have tears in them and a few interior trim pieces missing. Overall interior is 5 out of 10. The headliner looks great, carpet is in decent condition and the wiring was done well.
*VisionX Lighting System –over $1000 in lights alone, not including electrical, labor and relay panel.
LED Bars Archives - Vision X Lighting
(2) SUPER LED Front Lights on the ARB Bumper -
(4) 20" Smart Light Bar -
(
12" Smart Light Bars
(6) 6" Smart Light Bars –
(4) 2" Smart Light Bars -
See the lights by going to:
https://www.youtube.com/watch?v=29tHDic1jTI
*Tailgate Mural by Surf Artist Aaron Chang on rear tailgate. You can see Aaron's other work by going to:
Fine Art Photography | Surf Art | Aaron Chang | Aaron Chang
- The mural is a "wrap" and can be removed.
*PA System, CB & Police Siren – all in working order
*Kenwood Stereo w/ remote – recommend new door speakers
After I purchased the vehicle I had North Texas British in Dallas do the following work:
Complete new exhaust system including adding catalytic converters - $564.50 (8/4/14 receipt)
Complete electrical system overhaul and inspection - $829.26 (7/1/15 receipt)
New exhaust manifold down pipe gaskets installed (7/1/15 receipt)
New black felt headliner - $563.75 (5/23/14 receipt)
New power steering pump - $905.81 (5/23/14 receipt)
New power steering box plus alignment - $684.40 (5/23/14 receipt)
New water pump and serpentine belt - $737.70 (5/23/14 receipt)
Repack rear wheel bearings - $400.62 (5/23/14 receipt)
Front and rear differential guards added - $443.23 (5/24/14 receipt)
New radiator
New Gas tank lines installed
All fluids changed
Under hood battery disconnect installed
*Over $6500 in receipts in last 16 months, over $8000 in work in last 16 months
PLUS over $13K invested in aftermarket parts AND a new, very nice paint job.
Call/text me on my cell - 817.822.6902
Rover is located in Hurst and can be shown anytime with scheduling.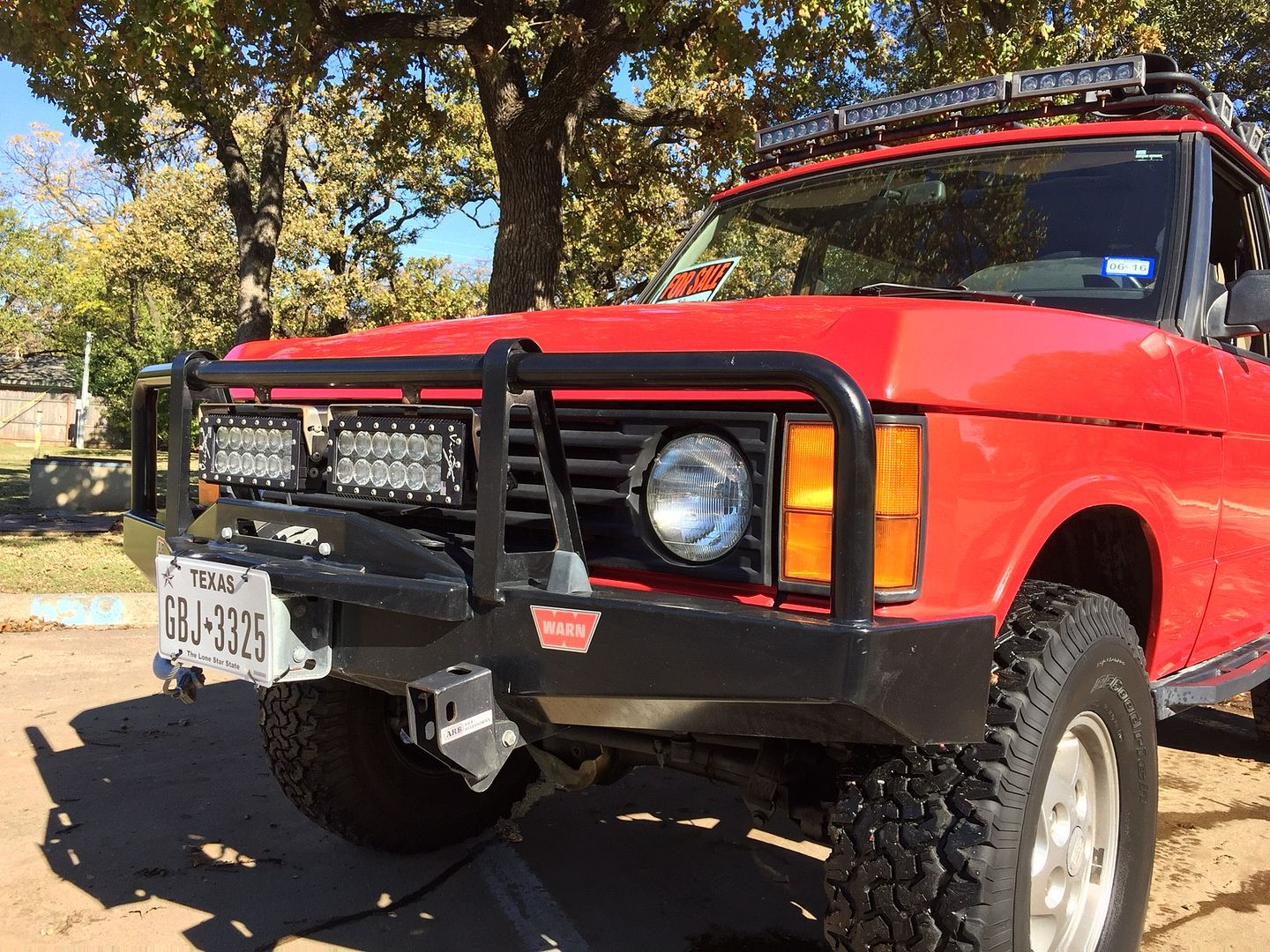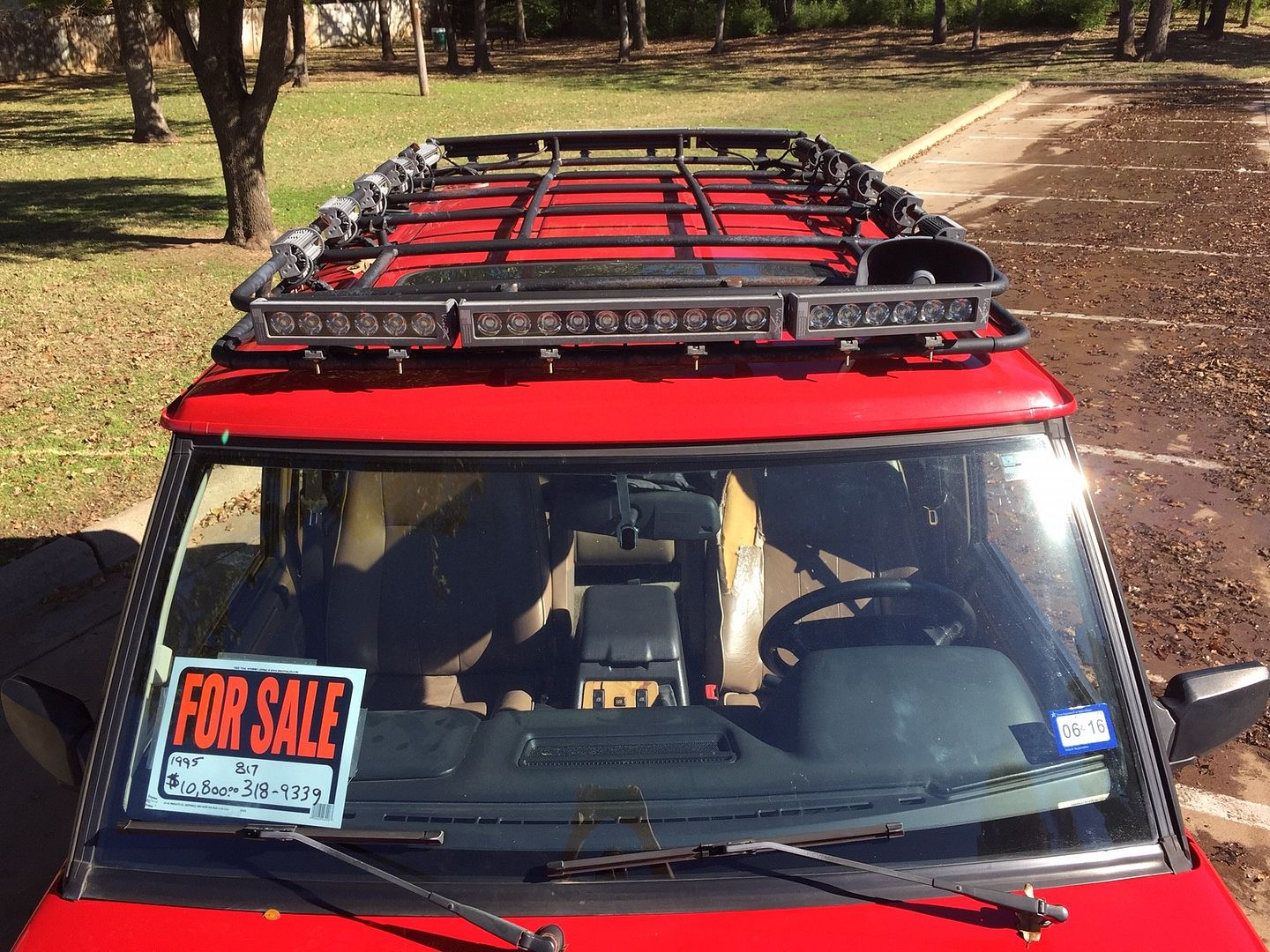 1995 Range Rover Story by JP Tabor (jptabor24) | Photobucket