New member & part time Texan! I bought this truck in Iowa with 200K on it runs & drives good. I put 2500 miles on it as a test drive (including 2 hr pulling a loaded 24" enclosed trailer on a 90 plus day ) with no problems before I loaded up to haul down to a place I just bought near San Antonio. As far as I can tell it is all stock. I adjusted the bands & changed filter & fluid when I had it down for a shift shaft seal. The trans pan was spotless & it shifts crisp & clean! Back to the load I didn't scale but it was pretty heavy!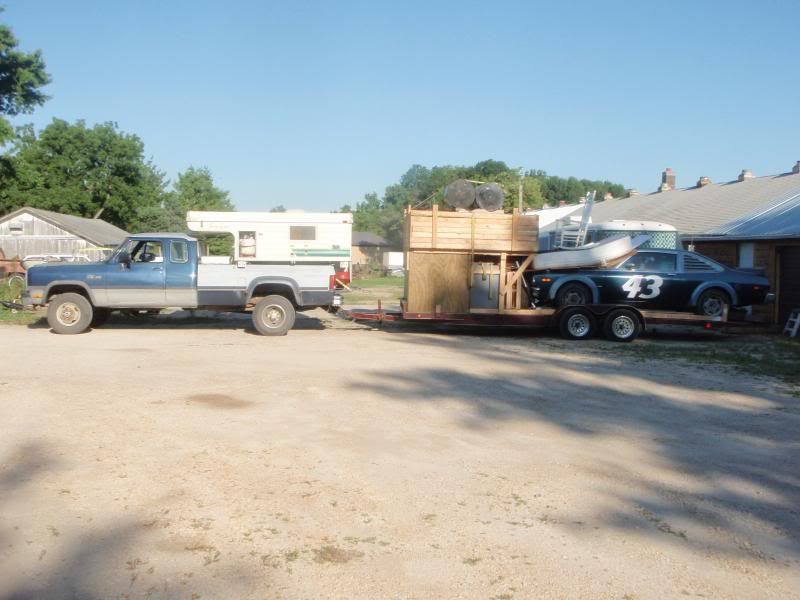 It was 85 & humid the morning we left, & the engine temp started building within 20 miles & pegged the stock gauge. I pulled off & allowed it to cool 15 min. Checked the rad. it was down maybe 1 pint & the thermostat was open & circulating! I drove back on 2 lane blacktop @ slower speed to my shop (I own a towing co. & salvage yard) we changed out the fan & rad from one of my old rollbacks that I knew didn't over heat. Also replaced a leaking o ring between the ps pump & timing cover that showed up! Took off again with the same results, pegged the gauge but did not puke any fluid. Limping back to the shop it cooled down again. I thought the gauge may be lying so I intalled a mechanical gauge & took off again. Same results! Limped home again. Off loaded everthing from the Dodge into Nephew's 8.1 auto Yukon & took off again 8 hours late & my pride & diginity in my back pocket. It handled the load just fine with no over heating.
So now I am back in Iowa caught back up & time to solve the problem. First guess, I figure a trans prob. rather than engine? It has stock pan, the fluid goes from the trans to the stock trans heat exchanger then to a small stock cooler in front of the rad. behind the AC cond then back to the trans. (I was not using the AC that day yet) It does not have a lock up converter. I plan to put a similar wieght & areo load on the trailer & monitor the trans with a freshly installed elec. trans gauge in the "out line" and snake a mechanical gauge down the dipstick tube. After verifiing the fins are clear on everything!
I have put 100's of K on this gen Dodge with no problems, all were sticks except for one 2wd D3500 & it had a cooler with electric fans mounted back ahead of the gas tank. I drove it to West Virginia thru the mountains with a UD 1800 with a roll back on a gooseneck trailer. It was spring temps that trip. I no longer have that truck (divorce) so I can't see if it was factory or added on or how it was plumed!
If I can monitor & conclude the tran's is the prob. I plan on adding a deep pan & a elec. fan cooler between the trans & the factory heat exchanger mounted back in front of the fuel tank, then leave the little air cooler in front of the rad. I figure giving the heat exchanger already cooled fluid it may help bring the eng. temp down rather than raise it? If that doesn't cure the prob. then another thought is a tighter T-converter?
This has prob. been covered here plenty but thought I would get some input if you don't mind. thanks BHA43