My wife and I have bought a shed to put in our backyard. The shed is 12x16. Our back yard is about 80ft long and 54ft wide. The problem is it's very sloped.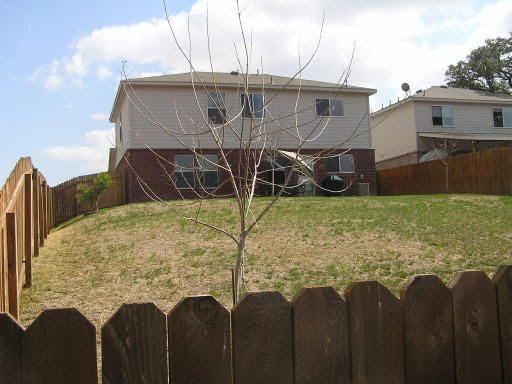 We want to landscape the bottom 51ft of the yard if possible. The level rises 8ft over that 51ft. Ideally this is our plan. 12ft from the back fence, we want a 1ft high retaining wall that is 35ft wide, using Rail Road ties. Then level that for the next 17ft, causing us to need a 3ft tall wall, then level that back 22ft and have our final wall 4ft tall. We'll build side walls that taper off with the ground level. We will leave about 12ft on the right side (see pic) and 7ft on the left side untouched.
the other alternative is two walls, the lower 3ft tall at 12ft from the fence and the upper 5ft tall at 34 ft from fence.
My question is, does anyone know someone in San Antonio that can do this for a reasonable price? We just built a 7ft gate in the backyard and the access is pretty easy.
We've had a couple people in here giving us quotes, but we're not sure they know what they're doing. We need a little advice to see if you think we're crazy, or can this be done for a reasonable price? We've found RR ties for $13.50 ea.
Any help would be appreciated! Thanks!
J.D.
Another pic from the opposite corner:
__________________
1973 Bronco 351 SEFI, Locked, Discs, 35's
God Forgives - Rocks Don't
www.ucora.org
You can take the boy outta the country, but you can't take the country outta the boy.