1966 VWC Piasano
I have done a lot of work to it since I first got it, but I'm burned out and it takes up too much room in the garage. I'm going to stow it away in a barn until someone buys it or until i can get back around to it.
Issues:
-Needs new pans
-Rear frame horn is tweaked
-Body needs fiberglass work and paint
-No title - (I did apply for a bonded title, just never went and paid for it. after seeing that the chassis needed some work i was trying to find a good titled '66 and older chassis with a title, but I've yet to run across one.)
-Could use new TRE's and BJ's
-needs steering wheel
-Wiring and lights (I have the stock '66 tail lamps)
-Brakes (needs hard line ran from M/C to rear, had new soft lines, shoes, and cylinders)
Good:
Completely Rebuilt motor with only a few hours run time
-Stock '66 1300 case turned into a 1600
-crank journals machined .020 and polished
-All German bearings (crank and cam)
-Rebuilt stock rods
-Mahle flat top 85.5 pistons & jugs
-rebuilt 1970 Single Port heads
-stock valve train
-Bugpack 4061 camshaft (270* duration, .396 lift, 108* lobe)
-New German Lifters
-Resurfaced flywheel and New 6V clutch/pressure plate -end play set correctly-Gland nut tq to 300 ft lbs
-36HP fan, setup for external cooler and filter
-new oil pump
-new fuel pump
-Reman Bosch 12v generator
-Weber 32/36 (also have a 34 Pict and DP intake that needs rebuild)
-EMPI exhaust and intake castings
-Aluminum bolt on valve covers
-SVDA Distributor
Trans
-Stock '66 trans
-All gears worked, needs clutch fork installed ( Ihave fork and kit)
Wheels and tires: Excellent shape and like new
-Aluminum 15x8 5x4.75 (Wide 5 adapters)
-BFG Radial T/A 225/70R15 Front
-BFG Radial T/A 255/70R15 rear
Windshield frame(steel) and tinted glass
Clean Fuel tank
I have all the parts somewhere that it came with or I replaced, but just ask if you see something out of place.
$1200
As it currently sits: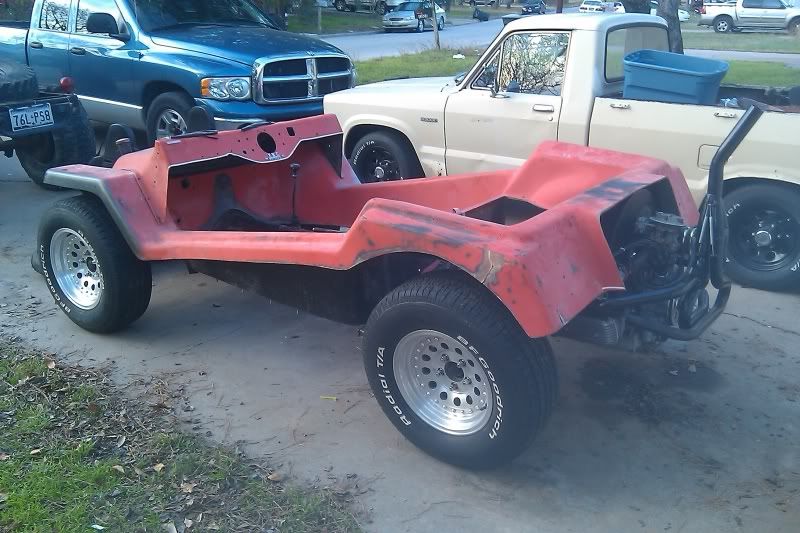 Pan: