I'M looking for something with rockwells , or maybe 1 tons that is set up up pretty nice feul injected would be nice . You can call me at 214-803-9600 Robert
I live in lewisville tx. right above dallas.I don't have a cash price cause I'm just looking to trade. I need something quick so I can make a trip to clayton in a few weeks. AND NO THE GIRL DOESN'T COME WITH IT!
This bike was built late 2006 by a guy in oklahoma. Its a custom
This bike started life as a 1999 Buell M2 Cyclone. Point Blank got it and well you guys know by now what happens when we get our hands on a stock bike.
We started with a Twisted Choppers frame with a +4 out and -2 up with 40 degrees of rake. Next we made a bitching frisco mounted tank with a nice stinger on the seat end. We made the rear fender, the oil tank and the super nice solo spring seat that Mike hand tooled and riveted to the pan. After that we had our buddy Justin over at Two-Bitt choppers cut us a couple billet trucker chicks and a sick jockey shift lever. The pipes came straight from the man Jesse James and they sound incredible. It also features a carbon fiber air cleaner,Mike's handmade blacksmithed fender struts, handmade battery box, and tag bracket. Then of course there's the paint. Mike started with a base color of House Of Kolor Tangelo pearl. Then did the silver tribal designs that were hand drawn and then scanned into the plotter. After that came the killer true fire !
This bike was featured in oct.07 American Cycle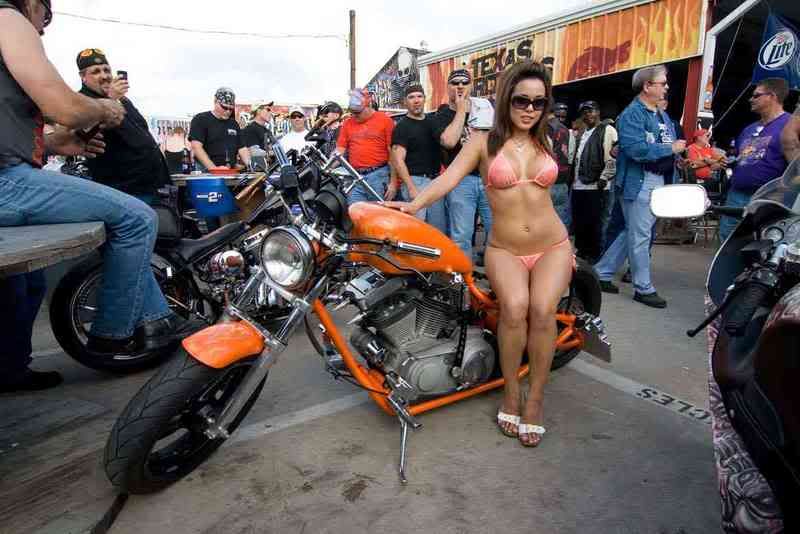 Just in case you are wondering......You can ... sort of ride two people on this bike..