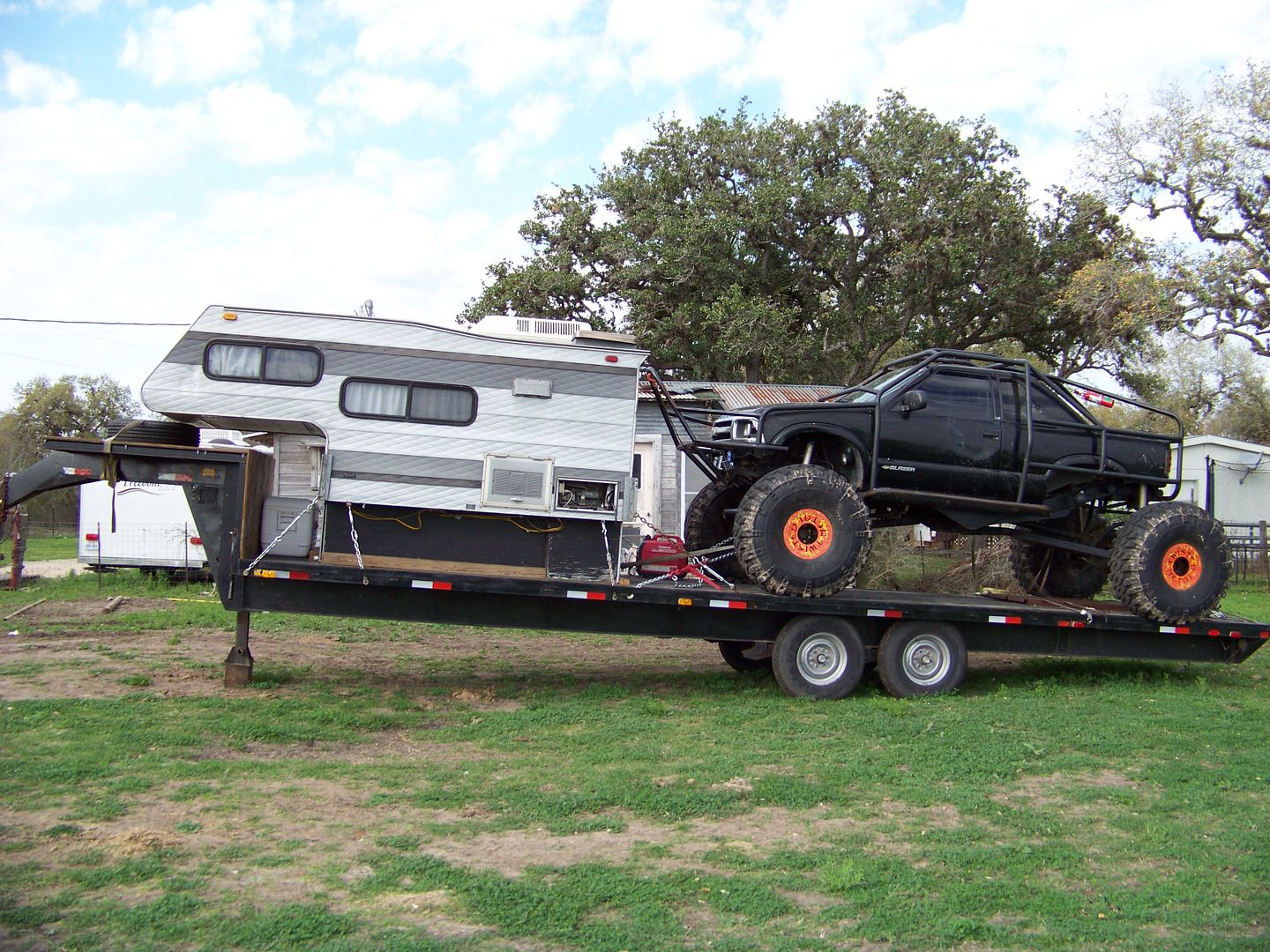 S10 blazer with 4.3L fuel injected v-6 engine, granny 4 speed, 205 transfercase with Klune V doubler. Geared super low will crawl up a straight wall. Rockwell front and rear steering axles with 6.72 gears welded up. Rear has brand new $2200 Overson Chrome moly axles and flanges installed and not even one run on them yet. Running 15" Allied beadlocks with 47" Super Swamper LTB tires. Nitrogen shocks all the way around on a uni-link suspension with crazy travel and flex. Plenty of room for the whole family. $11,000
Also selling 30 foot gooseneck trailer. 4 new brake assemblies, 5 new 16" rims and 14 ply tires that were very expensive, all new wiring and lights. pulls great. Also has a pickup slide in camper on it with ice cold AC and heat. Selling trailer and camper together $5500 and $4500 for just the trailer and $1500 for just the camper.
Will sell rockcrawler, trailer and camper complete package deal ready to go crawling or wheeling tomorrow for $15,000. Trades will be considered, mucsle cars, fast cars and trucks, classics, golf cart, side by side, gas
, tools, guns, or good old cold cash, etc. Let me know what you got.
Dana 70 front and rear axles with 7.17 gears and Detriot lockers and 35 spline axles, Both for $1600 or $1000 each.
Long bed headache rack $200
Dana 60 bare housing no axles, gears, plain empty rear housing, $100
Rockcrawler buggy body no axles or suspesion suzuki Samuria body (not much left of it) $1500
New rebuilt 351 Ford complete carb to pan and accesories $900
C-6 trans and transfercase, $600
Make offer call 361-571-9240 or E-mail suck10crawler @ yahoo.com