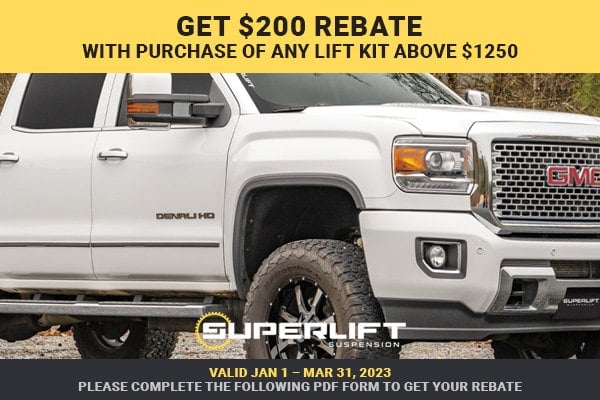 In order to excel in product design, Superlift has gathered one of the most experienced and skilled teams in the industry, one that makes use of cutting-edge computer modeling technologies and the latest innovations in production techniques. The company's bread and butter is a range of top-quality suspension lift and leveling kits designed for specific models of cars and trucks. The majority of the initial project specs are given to the Superlift team by the automakers to make sure the new kit is ready for the order once the new model of the vehicle hits the dealerships.
By using Superlift products, you can enhance your vehicle's appearance, comfort, and performance while also improving handling and control. You may currently purchase a Superlift lift kit and get a substantial rebate! Through March 31, 2023, get a $200 Visa Prepaid Card when you buy a Superlift Lift Kit that costs more than $1250. Act now, don't wait! Please complete the following
PDF
form to get your rebate.
Superlift® K962 - 6" x 4" Master Front and Rear Suspension Lift Kit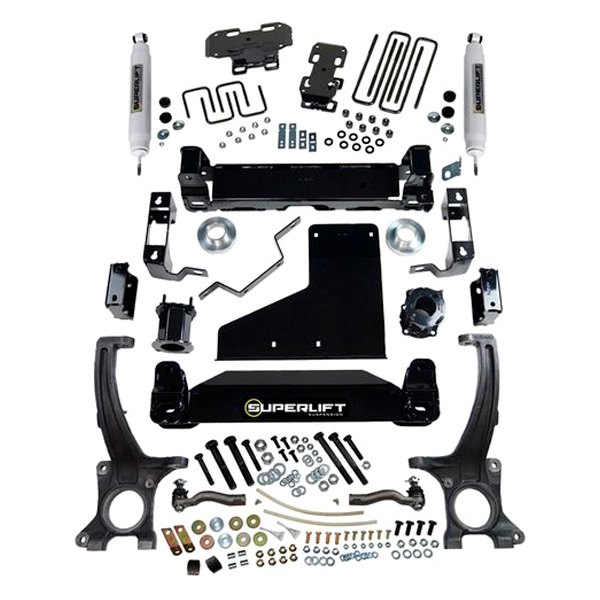 Master Front and Rear Suspension Lift Kit with 6" Front and 4" Rear Lift Height - Part Number K962 by Superlift. Max Tire Size: 35"x12.5". Available in Performance.

www.carid.com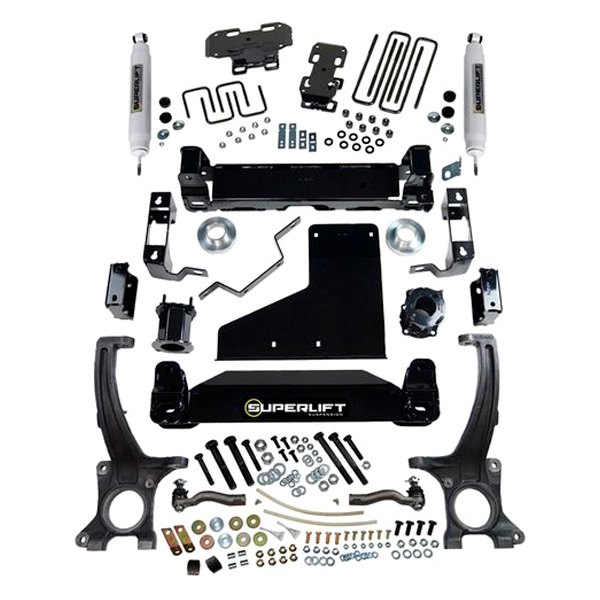 Fits: 2007-2020 Toyota Tundra
Notes:
• Cutting and Drilling is required
• Cannot run the factory 18" wheel
• Aftermarket 18" wheels require at 5" or less back spacing
• Do Not combine with any other suspension lift
Specifications:
With Superide Shocks
Install Time: 8-9 Hours
Install Difficulty Level: 4 of 5
Max Tire Size: 35"x12.5"
Wheels and tires recommended parameters:
35"x"12.5 Tire on 18"x9" Wheel with 5" Backspacing
35"x"12.5 Tire on 20"x9" Wheel with 5.5" Backspacing
35"x"12.5 Tire on 22"x9" Wheel with 5.5" Backspacing
Features:
• Retains OEM caster and camber alignment specifications
• No excessive ball joint or steering components
• CV axle angles are in the stock parameters
• Maintains stock like ride quality and handling
Includes:
• Front Complete System
• Front Knuckles
• Strut Spacers
• 5 in Rear Blocks
• Belly Pan
• Crossmembers
You can browse the full Superlift suspension parts catalog here:
Built by actual four wheel drive enthusiasts, Superlift has become of the most well-known names in suspension lifts today.

www.carid.com
Need some tires? Here are some of the options you may like:
Cooper Rugged Trek Tires
Grappler Tires
Yokohama Geolandar X Tire
If you have any questions, give our sales team a call at 800.505.3274 (Toll-Free) or 1.609.642.4700 (International).